Sales Trainers & Sales Consultant Companies
According to in-the-field research by Steve Amman of salesmeddic.com, integrating sales training material into the tools that sales people use on a daily basis can lead to a 50%-100% improvement in post-training sales performance.
That's why we've designed our Playbook to be completely customizable, so you can embed your material directly into a mobile app your clients will love to use. And our deal sheets are set up to integrate any sales methodology, sales process or organized sales campaign you might be working with.
Just get in touch with us today and learn more about how you can use iSEEit to provide your clients with a post-training coaching that's mobile and available when they need it.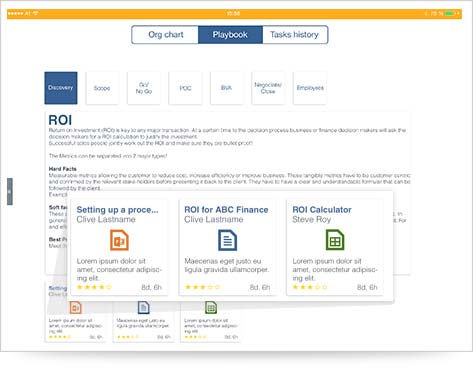 Referral Partner
Get a friend, colleague, or customer to sign up for a paid iSEEit plan and receive a discount on your own subscription. Simply use the Refer button within the dashboard of iSEEit and as soon as they sign up, you'll get your discount.
Have a question about partnering with iSEEit?
Just send us an email at sales@iseeit.com
Resellers
If you are reselling software and have customers that would like to improve their sales performance, please contact us to get you signed up.