[av_layerslider id='18' av_uid='av-2pddgn9′]
The first native mobile sales app specifically for the iPad and web. Created for sales, by sales.
Natural and intuitive workflow
delivers immediate results
Helps salespeople focus
on what to do next to drive and close more deals
Minimize manual input
with one-time data entry throughout the sales process
Eliminate frustration
with an interface that's actually fun to use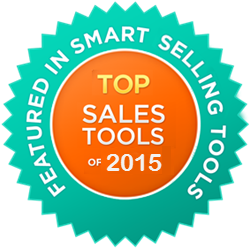 iSEEit recognized as a
Top Sales Tool two years in a row!
"iSEEit is this generation's CRM—reengineered and reimagined for the modern world of selling. It will change the way salespeople think about and interact with their CRM. There really isn't anything quite like it."
Salespeople spend just 41% of their time selling
It's a shocking statistic¹ and one that's doing serious damage across your business.
For sales representatives
The 'real' and 'reported' worlds conflict, as sales reps don't have the time to update their CRMs, the majority of which fail because people don't want to use them as they increase admin and do little to boost productivity.
For sales managers
Sales managers struggle to track their reps' performance, and end up hounding and micro-managing reps they'd much rather be coaching to become trusted advisors to their customers and colleagues.
For executives
Executives are forced to make financial and business decisions using forecasts based on hope rather than fact; and deals that could have been secured through a transparent and properly executed sales process end up being lost.
Free up more of your salespeople's 59%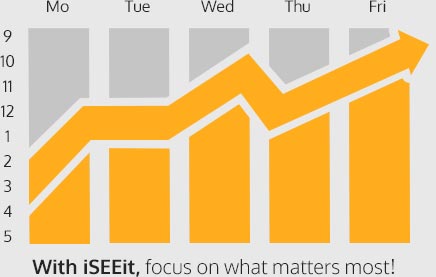 Work better, sell better
Natural and intuitive workflows help sales teams work better and sell better.

Combine difficult-to-integrate resources
Make it easy for sales reps to access and share information, arrange meetings, delegate tasks, progress deals, calculate earnings etc.

Minimize manual input
With one-time data entry throughout the sales process, sales reps save time and increase the accuracy of forecasting and reporting.

Inspire salespeople to work more openly
Make the sales process fun again while increasing efficiency and collaboration across your entire organization.

Take complexity out of the sales process
Encourage salespeople to focus on what they need to do next to drive and close their deals.

Get enterprise-level functionality
Whether you have one person on your team or one hundred, iSEEit has enterprise-level functionality at a small business price.
Start driving more sales today
Easily manage your entire sales process – from one place – with iSEEit's cloud-based sales app.
"iSEEit is simple, lightweight and mobile. This is just what we were looking for."