Before we built the iSEEit Opportunity Manager we talked to numerous sales leaders at leading organizations worldwide.
As a result, we identified three major problems that most teams are facing:
A lack of forecast accuracy
A low sales process adoption rate
Too much time spent on forecasting and reporting
That's why we created iSEEit – to help sales teams solve these problems and better qualify and drive opportunities.
Recently, we surveyed our customer base of sales reps, sales managers, and sales operations to see how well we were doing.
The results surprised even us…
Improving Forecast Accuracy

80% of the sales reps and 50% of managers we surveyed reported that iSEEit helped them deliver a more accurate forecast.
That's significant, given that a recent CSO Insights report stated that approximately 50% of deals do NOT close as originally forecasted.
Increasing Sales Process Adoption Rate
63% of managers and 60% of the reps we surveyed responded that iSEEit led to an overall increase in the adoption of their sales process.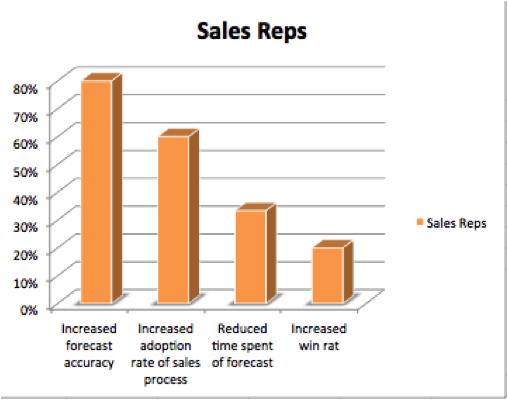 Since 87% of training information is forgotten after just 30 days, it's essential to give sales teams a tool that reinforces the process on a daily basis.
Sales representatives who've used iSEEit stated:
"We can now take the disparate content we have across the company, provide it a solid framework, and present it back to a broad audience in an easily adopted fashion."
"I use iSEEit every day to support my business development and I'm very happy with it"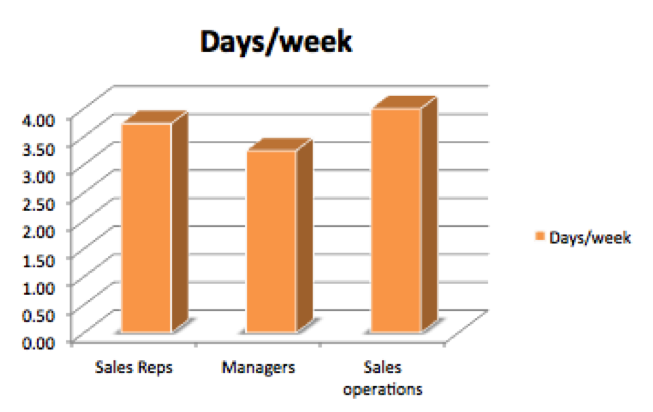 Especially critical for the success of a sales app is the usage of the sales reps. Therefore it was interesting to see that 72% of the sales reps use iSEEit on a daily basis.
Overall the sales reps use iSEEit on 3.73 days/week.
Surprisingly, also the management uses iSEEit frequently – 3.25 days a week and 50% every day. Sales operation managers spend an average of 4 days out of a business week in iSEEit.
Reduced time spent on forecasting and reporting
33% of reps and 50% of managers reported reduced time spent on forecasting after using iSEEit.
A sales rep wrote that he likes the "ability to show prepress to management," reducing his time to prepare reports over and over again.
A sales operation manager declared:
"For the price point – iSEEit greatly enhances usability of Salesforce reporting for 1st and 2nd line managers, saving time across opps org."
Increased win rate
Additionally, 20% of the reps and 13% of the managers reported that iSEEit helped to increase their win rate:
"It is a visual representation of what you are truly paying attention to in order to win sales opportunities."
Overall Satisfaction with iSEEit
Finally, we also asked our customers:
On a scale of 1-10, how likely is it that you would recommend this company to a friend or colleague?
The sales manager rated the likeliness at 9.13, followed by the sales operations of 8.5, and the sales reps with still 7.93.
Sales managers obviously gain a great insight into the quality of deals and pipeline and therefore have a very high likelihood to recommend iSEEit. But also the sales reps see great benefits to better understand their deals and forecast and benefit from a higher quality discussion around their opportunities.
Conclusion
For sales teams looking to increase their forecast accuracy while spending less time on forecasting and reporting, and are looking to increase their sales process adoption rate and win rate, then iSEEit is definitely worth a look.
https://now.iseeit.com/wp-content/uploads/2016/07/survey-results2.png
400
508
Rizan Flenner
/wp-content/uploads/2014/09/iSEEit-Logo-CORRECT.png
Rizan Flenner
2016-07-20 19:07:59
2021-09-06 11:50:48
How well does iSEEit help sales teams solve their top 3 problems? We surveyed our customers to find out…