Meeting the ultimate decision maker (aka Economic Buyer) to secure a deal is nothing new. Experienced sales professionals will always seek to gain access to people high up enough in the org chart to secure their deal. 
Although almost all Enterprise sales methodologies such as MEDDPICC, TAS, Value-based selling etc. place a big emphasis on covering the Economic Buyer, sales professionals still tend to take shortcuts with their sales strategy because it seems so much easier.
In my first year as sales manager, I got hit by a terrible quarter where I missed my forecast by almost 35%. As I analyzed the slipped deals with my team on what went wrong, it quickly became very clear. In 6 out of 7 deals that slipped or we lost, we had not met the Economic Buyer. However, in the deals that we had won, we managed to meet with 5 Economic Buyers out of the 6 opportunities.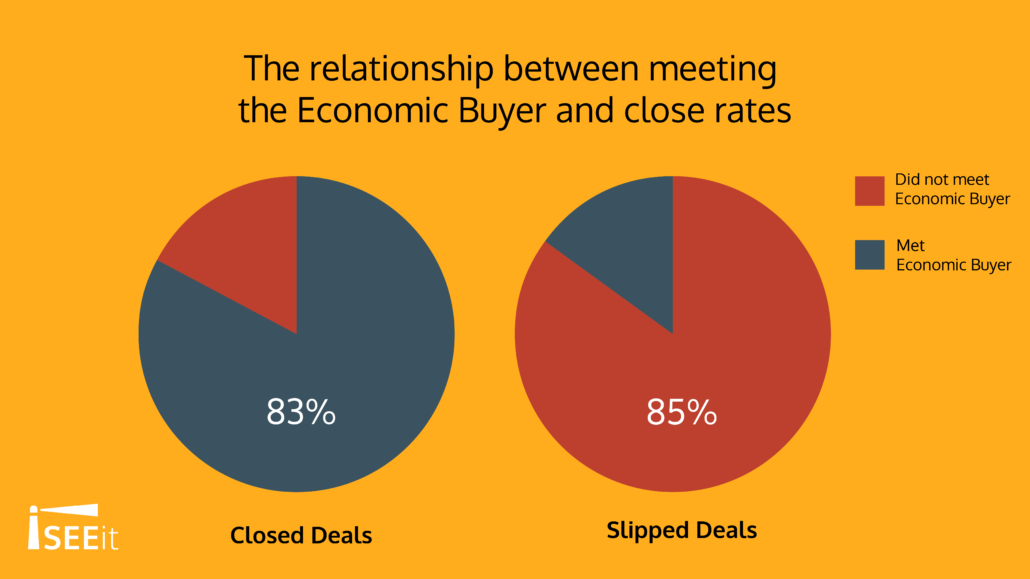 In today's blog post, we cover:
So, who is the Economic Buyer?
The Economic Buyer is the Ultimate Decision Maker. 
The ONE person in the customer's buying process that gives the final approval for your deal. The one who will not encounter any formal or informal "NOs" (or vice versa) after his/her decision has been made. No matter which sales process you follow (MEDDIC, MEDDPICC, BANT, Target Account Selling etc.), there will only be one person who approves the project in the end.
Why it's mission-critical to meet with the Economic Buyer
Now, we all know that Economic Buyers are busy and have no time to meet sales people or vendors. However, they will be the ones to decide on your project sooner or later. So, why would you not try to meet this person? Moreover, when you look at it from the other side of the table, if you had to spend a huge chunk of money on an important and sometimes mission-critical project, wouldn't you want to know:
    Is this the right vendor?

    Do they understand us?

    Can we trust them?

    Will they be able to deliver and make us successful?
By meeting with the Economic Buyer early in your sales process steps, it allows you to showcase your competencies and bridge with him/her. This creates a mutual understanding of what a successful outcome will look like from his/her perspective. Doing so then allows you to map out the route to success, transforming your role from vendor to trusted ally on the mission.
Finding the REAL Economic Buyer
Many times in sales, we first get in touch with a person who shows interest in what you have to offer because they were tasked to evaluate multiple solutions to a problem. Now, while it's great to talk to this person and convince them that you are the one, she/he is rarely the ultimate decision maker.
Who is the real Economic Buyer for your project? 
This might vary depending on the size of the organization and its org chart. Smaller companies have flatter hierarchies where decision makers have wider competencies. On the other hand, larger companies may have functional leaders and complex org charts. While smaller purchases can be approved by managers lower in the org chart, a 7-digit deal could elevate the Economic Buyer all the way up to the board level.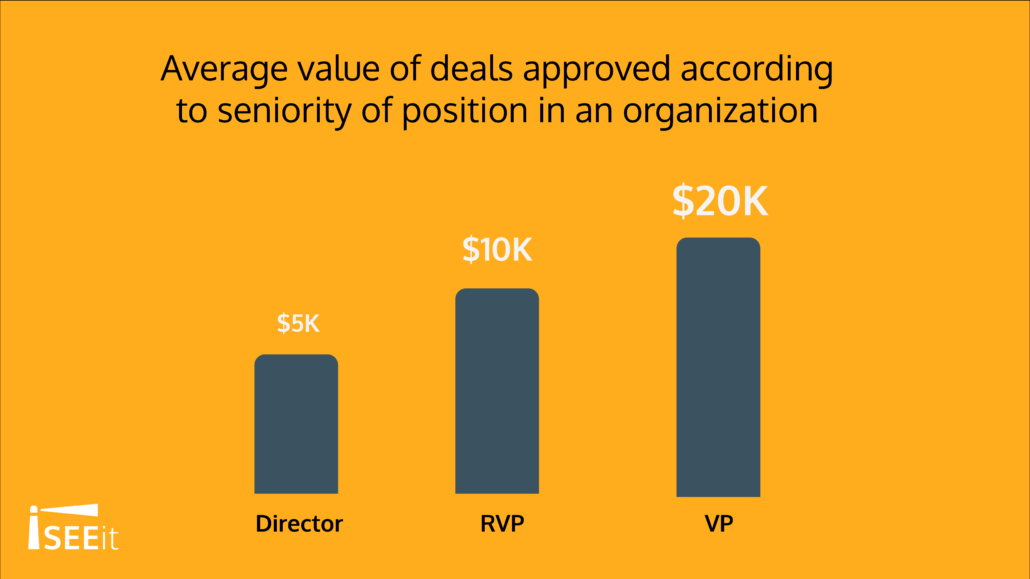 Depending on the pain you are trying to solve, the Economic Buyer might not even be sitting in the department you're trying to sell to. They could be sitting in finance, business, in the IT department, or in a different location altogether. Again, the bigger the pain, the higher up in the org chart the Economic Buyer is located.
But don't be disheartened. It's not mission impossible to discover who has the discretionary right to spend. 
Simply asking the people you're in contact with can help you identify the Economic Buyer quickly and accurately. A great person to ask would be your Champion. Other good sources could be a business partner, an internal consultant, or your colleagues who have dealt with your prospect in the past.
Here are some questions you can ask your Champion:
Who has approved deals of this size in the past?

Who owns the pain?

Who in business would benefit from solving the pain?

Is there a higher mission that this project is attached to?
You might not get to the ultimate decision-maker immediately, but with your discovery calls, you will get a much better understanding of who the real Economic Buyer could be.
How to Get a Meeting with the Economic Buyer
How to get access and meet with the Economic Buyer
Once you know who the Economic Buyer is, you still need to find a way to meet with him/her. This is not exactly an easy task given their busy schedules. Therefore, you need to give him/her an extremely good reason to meet with you.
As a result of their busy schedules, they often rely on a circle of people they trust as subject matter experts to help them evaluate and make decisions. By nurturing one of these 'inner circle' members to become your Champion, you have a chance to build up and create enough value that your Champion will arrange access to the Economic Buyer.
Here's how:
1. Build a Preliminary Business Case
While this might sound sophisticated, it is nothing more than a few quantifiable benefits you have discovered together with your Champion such as savings, productivity gains, revenue increase, etc. that your solution will bring. It should not be a CFO-ready 50-page business case, but a brief insight clearly outlined on a few slides which creates enough interest for the Economic Buyer to want to explore further. This will enable your champion to confidently ask the Economic Buyer for a joint meeting.
2. Define 'Quid Pro Quo' Delivery Gates
Most salespeople build relationships by educating their prospects. Sometimes with such immense effort, time and resources only to eventually get stuck in a place without any real next steps defined.
The greatest sales reps always think 'quid pro quo' (latin for 'this for that') and are not afraid to ask for what they need in return to further their sales process. For example, if you've got a labor-intensive trial period, you can make it a requirement to first meet with the Economic Buyer (and get his/her sponsorship) before proceeding with the trial.
Many sales people feel really uncomfortable requesting for such a meeting because they are  afraid of getting a "NO" and putting the client off.
However, the top sales reps know that this is a fantastic tool to use in your sales strategy because it allows you to qualify where you stand in the sales process and if you have successfully developed your Champion. Trading in a "small" commitment such as organizing a meeting with the Economic Buyer to get a trial in return will be a no brainer if your Champion believes he can solve the pain with you. This is a great way to establish yourself as an equal counterpart, which will elevate you to doing business on an eye-to-eye level.
3. Use your own executives
This once helped me secure a $3 Mio. deal in less than 15 minutes. I had been trying to meet the Economic Buyer for weeks for one of the most important deals in my career ever. However, she was completely overloaded and didn't have any time.
So I used my CEO's visit to London to arrange a meeting with our prospect's Economic Buyer.  She happened to be on her way to the airport and agreed to give us 15 minutes at a crowded, run-down café at Paddington Station. In the end, the meeting was well prepared on both sides. We nailed down key commitments and closed the deal just 8 weeks later.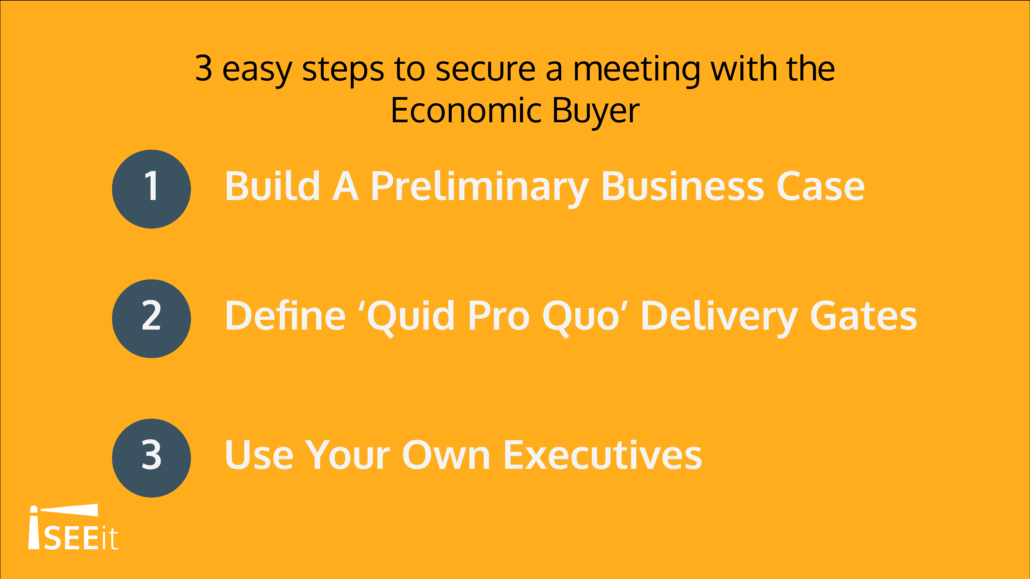 Getting the Economic Buyer On Board
There is no second chance to make a first impression. So prepare well. Know their business, main projects and initiatives. Build a distinct agenda with your Champion to make sure you cover all the relevant topics of "things you want to leave behind" and what you want the Economic Buyer to remember about you, your company and offering.
Also, know the "things you want to take with you", such as knowing if he/she is the real Economic Buyer, if this project is relevant, what are the success criteria of the Economic Buyer and what the steps are to close the deal this quarter.
Here are some key questions that should be on your list:
Do you sponsor this project?

 
Is this something that aligns with the Economic Buyer's strategic goals? If yes – great, you might want to reconfirm why and which pain she/he hopes to tackle.
What would success look like for you?

 
What are the Economic Buyer's criteria in order to feel comfortable signing off on the deal? This usually opens great discussions on business needs and criteria.
What are the next steps, if we fulfil your success criteria?

 
What needs to happen next. Along this discussion, reconfirming if the Economic Buyer is the ultimate decision maker is key to additional questions like 
"Is it reasonable to plan closing this business by XX.XX?"
If we both come to an agreement, is there anybody else that formally or informally needs to be involved in the approval of this project/purchase?
"Would you be open to governing the decision process?" "If we get stuck along the way may we get back to you?"
The answers to these questions will enable you to align yourself to his/her criteria, address potential concerns and lay out a plan to successfully deliver. This will encourage him/her to sponsor your deal and drive the next steps with you.
Check out the video below as five-time CRO and current CRO at Espressive, Keno Helmi, shares more on how the iSEEit Opportunity Management tool has helped his sales team make sure that they meet the Economic Buyer, and how he uses the MEDDIC qualification score to forecast with confidence.

Conclusion
Whether you meet him/her or not, the Economic Buyer is going to be a major part of the decision. Meeting the Economic Buyer early in the sales cycle is part of what makes a good sales strategy as it clears the "fog of war" and lets you see exactly what's needed to drive your deal to closure.  Just be relevant and business oriented in order to honor the time spent with your Economic Buyer, and do what it takes to get his/her commitment and support to close the deal in the planned time frame.
It's not easy to get in their schedule. But it pays off big time to know somebody high up in the org chart who supports you. Once they are brought in, they will guide you and internally push things through to finalize the deal on time.
Find out how the Economic Buyer fits into the MEDDICC sales qualification methodology by clicking here.
https://now.iseeit.com/wp-content/uploads/2020/10/Screenshot-2020-10-06-at-11.18.29.png
910
1556
Rizan Flenner
/wp-content/uploads/2014/09/iSEEit-Logo-CORRECT.png
Rizan Flenner
2020-10-05 15:52:31
2022-01-31 09:00:42
Who is the Economic Buyer & How Meeting Them Can Help You Hit an 80% Close Rate | MEDDIC | MEDDICC | MEDDPICC