We all know how painful it is to find out you've lost to a competitor only after the fact. It should be obvious – we need to know who we're competing with from the get go in order to position our solution the right way. However, more often than not, we end up losing sight of competition as other matters are prioritized. If you're looking for ways to sniff out competition early and win, you should read on as we take you through:
What Is Competition?
As one of the qualifiers of the MEDDICC sales qualification methodology, Competition is often the most neglected or underestimated factor when it comes to closing a deal. While you prioritize understanding your prospect's pain, collecting metrics and building champions, your competition is most likely doing so as well
Categorically, Competition could either refer to a product you're competing with or your prospect's preference for the status quo.
Even if your business counterparts don't want to involve a competitor, they might be forced by management or the purchasing/sourcing department to get additional quotes for comparison. Public companies or federal institutions might even be forced to publicly request for proposals.
In addition, if there isn't another physical company competing against you, you could find yourself competing against the "Do It Yourself (DIY)" approach, which refers to the client sticking to its current method of solving the problem instead of going with your solution.
This happens very often especially if you are in the open-source business, where you might be competing against your own product. It may sound weird, but it can happen if the decision criteria for using an open source vs. paid option is not clear, or if the metrics are not strong enough.
Once, we had been working on a very large opportunity at a huge insurance company. The sales cycle had already lasted 9 months and we had come a long way. We made sure to cover a majority of the technical decision makers and business stakeholders, and even built a convincing, bulletproof ROI. 
However, it was at this point that we faced a competitor which nobody foresaw. After looking at the ROI, the CFO asked his team to run this project by the architecture team in the parent holding group as they had also been working on a similar project. This was when our champion informed us that there would be a slight delay as the architecture team wanted to implement a group-wide solution and had already been evaluating another vendor.
This got me worried as I knew that such a big project with a 7-digit spend would not be easy to close. Unfortunately, I was right and the decision was postponed. Although this deal was eventually closed a few weeks later with the help of senior management, it slipped out of the quarter and affected the forecast.
In hindsight, my champion did know about the growing internal competition, but highly underestimated it. If we had known about the competition early enough, we would have been able to build a strategy to neutralize this threat and avoid this huge gap in the forecast.
Moral of the story – you don't want to find out that you have been in a competitive situation after losing the deal.
How to Detect Competition Early?
Therefore, you always need to ask yourself 4 overarching questions:
Who are you competing with?
Why are you competing against them?
What are your competitors's strengths/weaknesses?
Who is your competitor's champion?
1. Who are you competing against?
Challenge your champion by actively asking: "

Are there solutions by other companies that you are looking into?

" "

Is there internal competition?

"
2. Why are you competing against them?
Is cost, resources or knowledge an issue?

Is there an active (frame-) contract that could be leveraged by your competitions?

Do they need to get a minimum of 2-3 offers?

Are there internal affiliates or departments offering similar products/services?
3. What are your competitors' strengths/weaknesses?
How can you position yourself to present your unique selling proposition?

What traps can you set for your competitors?
4. Who is your competitor's Champion?
Who benefits from the competitor?

Who supports the competitor?

How strong are their Champions?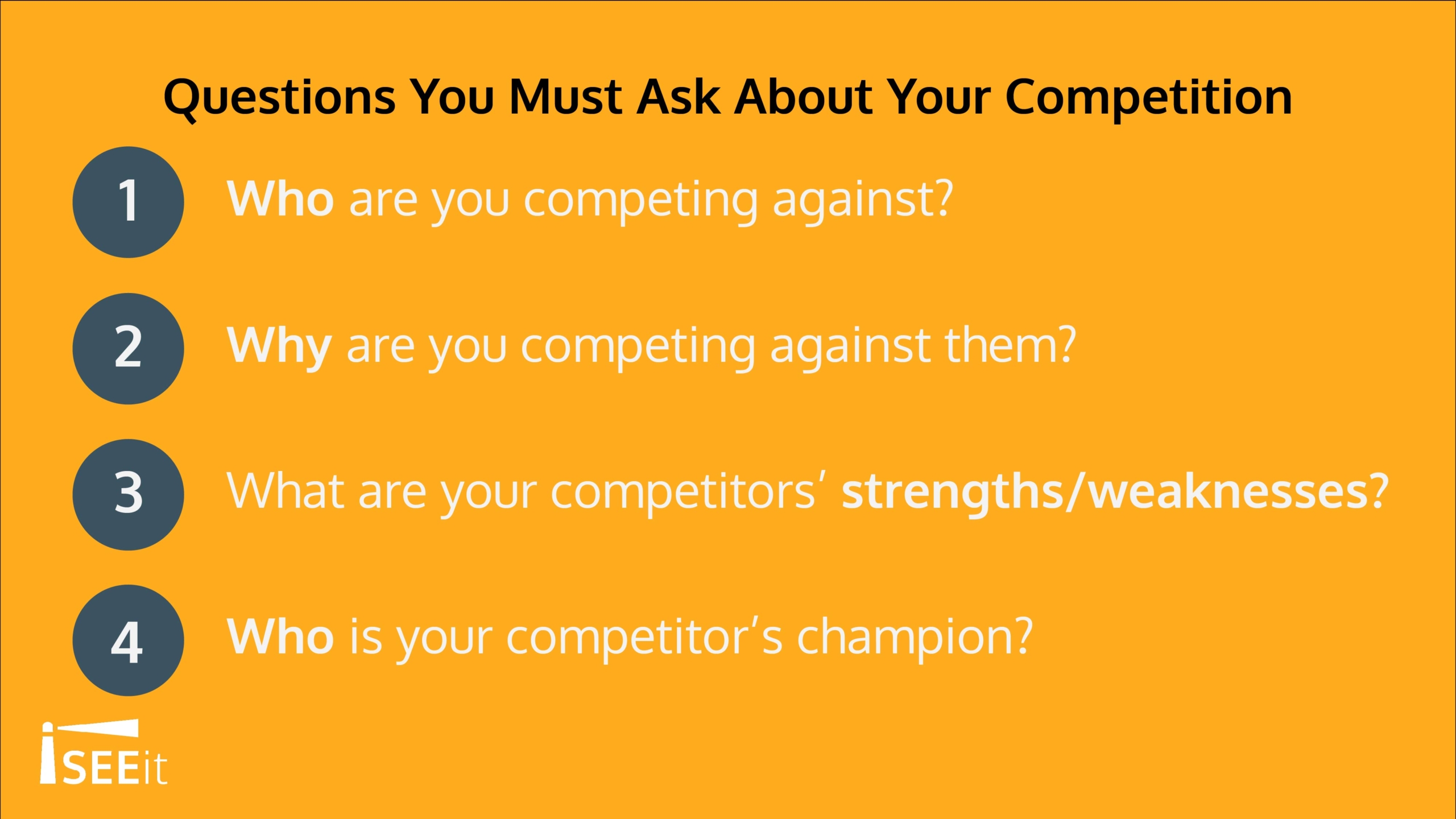 How to Oust Your Competition and Close the Deal?
Strengthen your case

Provide bulletproof, defendable metrics and present the clear benefits of choosing your solution instead.

Understand your competitors' weaknesses to set traps

Identify the potential gaps and determine what's lacking in your competitor's product offering or solution. Together with your Champion, position these gaps as "must-haves" and non-negotiable.
If your competition is more feature-rich, make sure that these are seen as non-critical, "nice-to-haves" that the client doesn't really need.
Make sure you and your champion have a clear understanding on how to communicate the above points to all stakeholders.

Build multiple champions

Look for business owners, users, procurement, sourcing or legal departments on top of technical decision makers to find champions.

Don't focus on just 1 person or 1 department. Get deep and wide in your account in order to understand the different needs. 

Doing so will also help you in setting traps for your competition from a technical, business, legal and procurement standpoint, strengthening your case.

Meet the project team before they issue the Request for Proposal (RFP)

You might have a chance to influence your prospect's decision criteria by educating him/her on what to look out for

If you enter the game later than your competitors, the groundwork for the decision criteria would have already been laid out in their favor. This prevents you from steering the conversation in any direction and deprives you of the opportunity to build relationships with your stakeholders. As a result, the chances of closing a deal based on an RFP that did not involve you drastically decreases to only 20% and your only way to win would only be via price, if you're a market leader, or if your product coincidentally coincides with what your prospect is specifically looking out for.
Listen carefully to the qualifying questions your client asks you. They may be traps that the competitor has set by educating their champions on your weaknesses, or them trying to influence the decision criteria in their favor.
Conclusion
Do not underestimate your competition. Whether you're competing with another solution or the organization's DIY mentality, you need to know who your competitors are and understand them through and through. Only then will you be able to steer the narrative and clearly show your prospect why he or she should choose your solution and set traps by pointing out the flaws in your competitors.
Click here to find out how Competition plays a part in the MEDDICC sales qualification methodology.
https://now.iseeit.com/wp-content/uploads/2021/03/Competition-Thumbnail.png
979
1187
Rizan Flenner
/wp-content/uploads/2014/09/iSEEit-Logo-CORRECT.png
Rizan Flenner
2021-03-04 13:11:11
2023-07-24 16:45:20
How to Detect Competition Early and Win| MEDDIC | MEDDICC| MEDDPICC