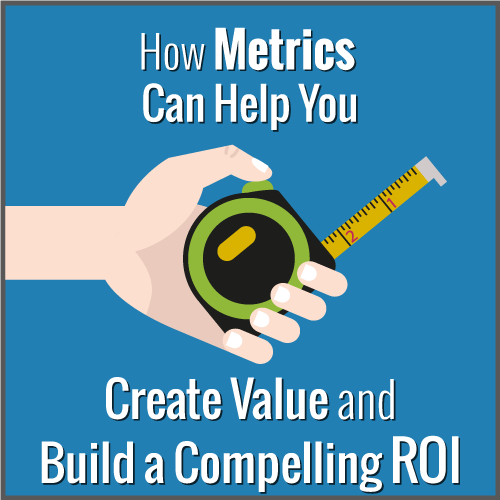 Today, we're onto Part 4 of our series on How to Effectively Close More Deals.
So far, we've covered pain & implication, generating customer rapport and building up a sales champion.
The next step is the glue that binds your whole sales campaign together. It's what justifies the purchase and convinces the Economic Buyer sign on the dotted line.
That's right, I'm talking about Metrics.
Here's an in-depth look at what they are, how they will help you close more deals, and why you never want to miss out on collecting them…
Metrics Defined
A former boss of mine once said:
"Collecting metrics is like collecting money."
You either need them to justify the cost on your deal or you need them to win new clients.
But what exactly are Metrics?
Metrics are the quantification of a pain.
They measure what would happen in case your client decides not to do anything.
They are the answer to the First Why:
"Why should your client do anything?"
In other words, we measure the client's current state (before purchase) and future state (after purchase/implementation), then quantify the benefits.
Metrics that customer clients typically value are based around Cost Reduction, Risk Avoidance and Gaining Revenue or Market Share.
Here are some examples:
Cost Reduction
Raviga Corp. is running 300 server systems.
Current state: They have 15 people working fulltime (Fulltime Equivalents, or FTEs) to keep the systems running and up-to-date.
With a systems management solution, Raviga can automate a good part of the daily recurring jobs. That would free up their IT staff to run the systems with just 5 FTEs.
Future state: A cost reduction of 10 FTEs, or $500,000 per year.
Revenue Increase
Intersite generates $10 Mio. in annual revenue.
Current state: 10 maxed out insides sales reps create leads by hitting the phones hard, without a lot of room for improvement.
Future state: On a trial with an automated lead nurturing, reps are able to produce 30% more qualified leads.
With a 40% close rate, Intersite could close an additional $1.2 Mio. annually.
Start collecting metrics early
It's important to collect metrics from your very first calls.
The more you understand the state of your customers' business now, the more you can help them envision how things could be.
If you wait too long and the deal enters negotiations, customers tend to shut down and focus only on price. At that point, it's too late to discover additional metrics that will help move your deal along.
So, now that we know what Metrics are, how exactly do we put them to use?
How Metrics Help You Justify Costs
In times of Black Fridays, banking crises, unstable economies and shrinking budgets, prospects need to justify every investment more than ever.
In fact, it's not at all unusual these days for clients to require a clear ROI within 12 months or less.
That's why the #1 reason for slipped deals is that the client decides not to do anything, and chooses to stick with the status quo.
You may have achieved a technical win, but when it comes to executive sponsorship and financial approval, the deal stalls.
Here's a real life example:
It was end of Q4, and we had 1 week left to close one of our biggest deals.
We'd had a tough quarter, but one of my best sales guys had a deal that would take my region to 110% and the rep to 160% on yearly achievement.
Since we already had a relationship with the client, we went in with armed a great Champion, a strong pain and a solid personal interest.
Things were going well, so our Champion arranged one final meeting with the finance team.
That's when the hammer came down on us.
Instead of finalizing the deal, the head of purchasing said that the deal was not approved.
His reason? The ROI wasn't clear enough to the board.
We were completely shocked.
To us, the benefit was so clear to that we never thought about doing a business case.
And even though the use cases were strong, they weren't tangible and understandable enough for a finance board, who needed to base its call on hard facts and figures.
That was a big mistake.
Because metrics can be collected on every sales call, technical event or on formal value assessments, there's no reason to ignore them.
How Metrics Help Keep Your Margins High
Since the burst of the dot-com bubble, selling to IT departments has only gotten tougher, year after year.
These days, purchasing managers request at least 2-3 competitive offers, and slam these against sales people during negotiations (even when you have a unique offering).
But great salespeople always make sure they come armed and ready to secure the value.
Again, it comes down to having the correct metrics.
I once had a very competitive project where my closest competitor dropped their price by 70% below our offering – just to compensate a weaker product.
Competing with 3X the price is not a good place to be in.
But we felt strong about our offering and didn't want to engage in a price war. So we called an internal meeting to find a way to keep the margin and still win the deal.
We came up with all kinds of things – adding more products and services into the deal, adding more users – when our sales operations guy stood up and said:
Why don't we quantify the difference to the second best choice?
The room went silent.
We had collected so many use cases, benefits and metrics that we had hard facts (metrics) why our offering was the right choice.
So we gathered all the metrics we had been collecting on a flip chart and confirmed with our Champion that they were tangible and unique to our offering.
When we went back to the customer, the discussion on price turned into a discussion on unique benefits – allowing us to keep our price and win the deal.
How Metrics Help You Generate Pipeline
Not only are Metrics powerful tools to negotiate a deal, they are just as powerful in your first meetings with leads.
How?
Because prospects love to discover how their competition and industry is performing so they benchmark against them
That means you should be using real use cases with tangible metrics to bridge with your prospects and open the doors.
John Kaplan from Force Management calls these "Proof points:"
Proof on how a customer could benefit if he'd think about solving a pain point.
Great salespeople know this, and collect as many relevant metrics as possible from existing clients in order to:
Educate and challenge their client's position
Establish themselves as a trusted source of advice.
In fact, I knew a rep who would get a next step 80% of the time after a first call – simply by challenging his prospects with metrics from their competitors.
Conclusion
Metrics are one of the most reliable ways to speak your customer's language and close the deal.
Without them, you run a much higher risk of delays or having a weak position during price-negotiations.
After all, you have to know what's in it for your clients. And you absolutely must be able to quantify the benefit.
Always make sure you know the answer to the question:
Why should the client do anything?
And always make sure you have the numbers to back up the answer.
So, if you haven't already done it, go to your existing clients right now and find out the quantitative difference your solution has made for them.
Doing so can a massive impact on your future close rate.
Find out how Metrics fits into the MEDDICC sales qualification methodology by clicking here.
https://now.iseeit.com/wp-content/uploads/2016/03/Tape-Measure2-500px.png
500
500
Rizan Flenner
/wp-content/uploads/2014/09/iSEEit-Logo-CORRECT.png
Rizan Flenner
2016-03-10 12:14:37
2021-08-09 14:51:15
How Metrics Can Help You Create Value and Build a Compelling ROI | MEDDIC | MEDDICC | MEDDPICC