iSEEit is happy to announce that we've received 4 awards based on G2's Winter 2022 reports! The awards are: Highest User Adoption, Highest User Adoption – Small Business, Fastest Implementation – Small Business, Most Loved by Users.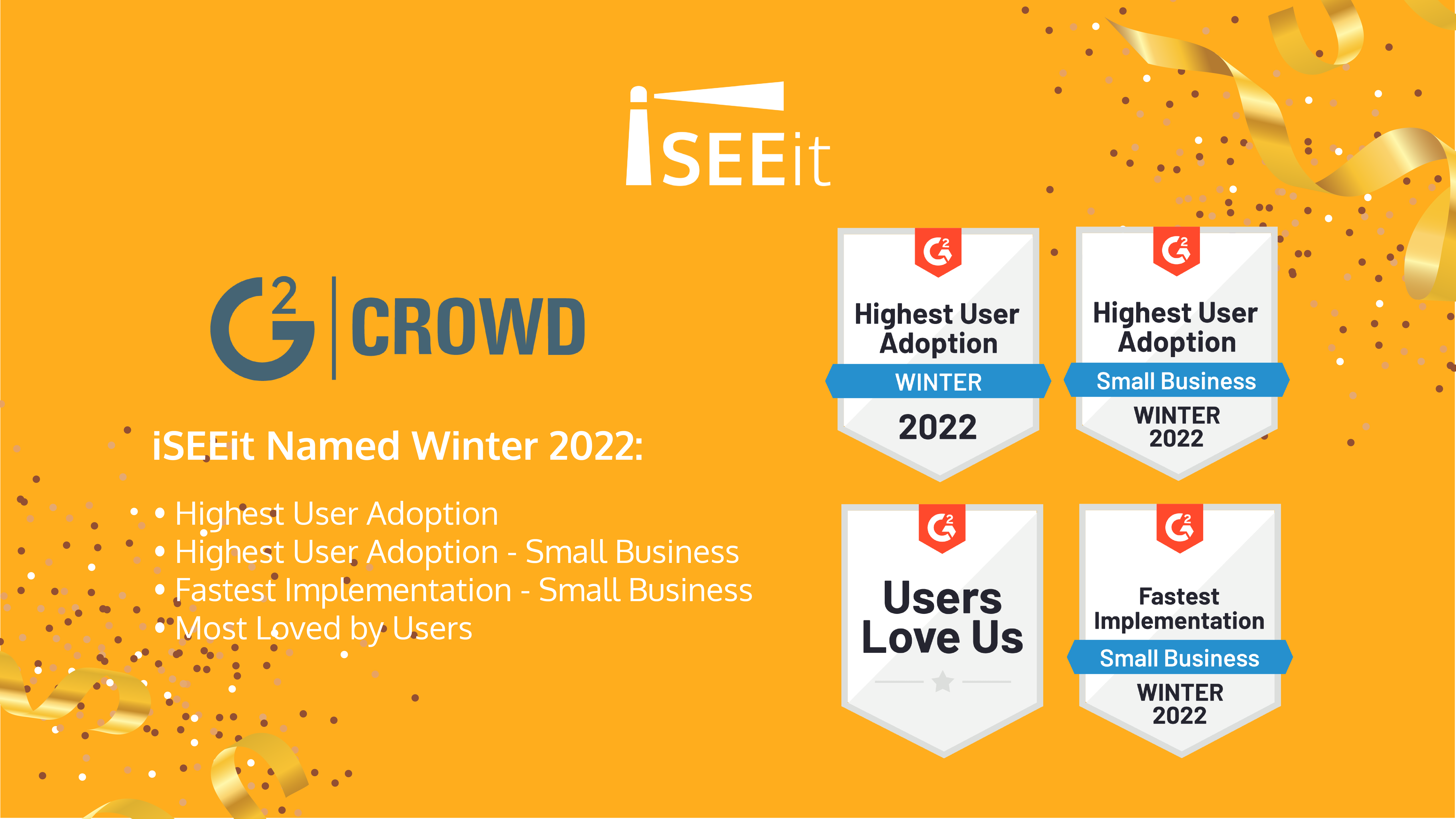 These awards mean a lot to us and we're grateful to have been recognized as a top rated Sales Analytics solution in the industry, as chosen by a source that matters most: our customers! This gives us even more motivation to continue to improve our solution, to enable more businesses to visualize their sales process on Salesforce.
We'd like to say a huge thank you to our customers and partners, for placing your trust in us and for allowing us to empower you to gain more insights into your sales campaign to close more deals. 
Click the button below to learn more about how you can start following your sales process on Salesforce today to gain confidence in your forecast.
Here is some information on the different categories that iSEEit has won an award in.
The Highest User Adoption award is awarded to solutions that have earned the highest User Adoption rating in its category. With an average user adoption of 94% (above the industry average of 72%), it is a testament to iSEEit's ease of use and the value that it adds to the sales team.
The Fastest Implementation award is awarded to solutions with the the shortest go-live time in its category. With an average go-live duration of 0.5 months (below the industry average of 2.05 months), iSEEit has proven that it is able to quickly understand the requirements of its customers and ensure quick implementation, to support its customers in rolling out the solution swiftly.
This award is given to solutions that have received reviews with an average rating of 4.0 stars or more. With a score of 4.5/5, iSEEit continues to offer a product that adds value to its customers and provides technical support in a timely fashion, ensuring overall customer satisfaction and happiness.
About iSEEit
iSEEit offers a native Salesforce app which enables sales teams with complex buying cycles to visualize their sales process on Salesforce, allowing them to qualify their deals, instantly identify the gaps, and achieve an evidence-based forecast. It facilitates quick alignment between sales reps, first line sales managers, executive management and sales ops so that all members of the sales team are on the same page, giving them more time to take preemptive action in order to close their deals. While it comes out-of-the-box with the MEDDIC sales methodology, it can be completely configured to reflect the best practices of the company. iSEEit has a global footprint, with an especially strong presence in the US.
https://now.iseeit.com/wp-content/uploads/2021/12/iSEEit-G2-Winter-2022_Blog-Thumbnail-02.png
2247
2805
Ernest Nah
/wp-content/uploads/2014/09/iSEEit-Logo-CORRECT.png
Ernest Nah
2022-02-24 11:08:42
2022-02-24 11:10:07
iSEEit Wins 4 Awards in G2 Winter 2022 Report