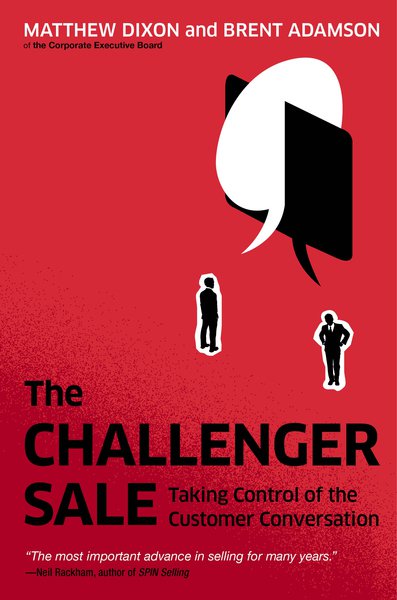 According to The Challenger Sale, there is a class of sales reps out there that consistently outperform their peers by up to 200%. What's their secret? How are they succeeding where other's fail? Is there a way to mirror their success?
Ask any sales leader about the state of the sales industry today vs. ten years ago, and you'll get a wealth of opinions:
Purchasing budgets have been slashed, and decision makers are more hesitant than ever. Deals are scarcer, and the competition is fiercer.
In other words, it's never been this tough.
But in spite of these challenges, there are reps out there that consistently close over 200% more deals than their colleagues.
And that's even in declining markets with declining growth.
What's their secret? How are they succeeding where others fail?
The Challenger Sales Approach

In 2009, Matthew Dixon & Brent Adamson wanted to find out what top-performing reps were doing that their average performing peers weren't.

Over the course of several years, they interviewed over 6000 sales reps across more than 100 companies.

The result was The Challenger Sale (CEB, 2011).

In their book, Dixon & Adamson explain that every sales rep falls into one of five profiles:

• The Relationship Builders

• The Hard Workers

• The Problem Solvers

• The Lone Wolves

• The Challengers

The Relationship Builders are the one who focus on exactly what their name suggests, building relationships. Their goal is to resolve tensions and make sure the customer's needs are generously met.

The Hard Workers are the ones who show up first and leave last. They go the extra mile, and make more calls and have more visits than any of the rest.

The Problem Solvers are reliable to a fault. They are extremely detailed-oriented and are quick to take care of any issues that might disrupt their deal.

The Lone Wolves are the renegades of the sales world. They trust their instincts and do things their way.

And then there are the Challengers.

The Challengers are the ones who see things deeper and drives things further with their clients. They are bold, assertive and not afraid to push their clients outside their comfort zones.

They don't use traditional approaches to sell, and their results speak for themselves.

In a high-complexity deal environment Challengers close up to 250% as many deals as Hard Workers, Problem Solvers, and Relationship Builders combined.

And, according to Dixon & Adamson, Challengers accounted for 40% of the highest-performing reps.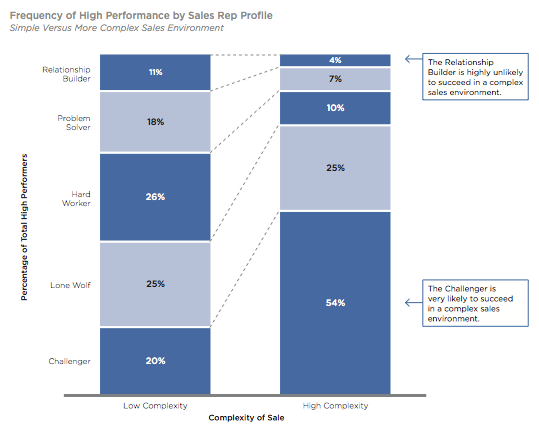 But how, exactly, do Challengers drive so much growth?
Teaching, Tailoring, & Asserting Control – The Challenger Difference
There are three factors that set Challengers apart:
Challengers teach their customers.
Challengers tailor their message to the customer.
Challengers assert control of the sale.
Teaching
Challengers bring a unique (and often provocative) perspective that sheds light on problems that clients didn't even realize they had.
They focus sales conversations not on features and benefits, but on insights that push clients to imagine new possibilities of making money and saving money.
Tailoring
Challengers have a deep understanding of customer objectives and value drivers, which allow them to match their sales pitch to different stakeholders within a company.
Whether it's the IT guy, the VP of Marketing, or the CEO, the challenger knows how to get his message to resonate.
Asserting Control
Challengers know the importance of direct communication and are comfortable creating what Dixon & Adamson refer to as "constructive tension."
They are unlikely to give in to every demand their client might have (the way a Relationship Builder or Problem Solver might), and,
Challengers thrive at getting their customers to think in new ways.
Ok, but What If I'm Not a Challenger…
You might be thinking, "Great. But I'm a Problem Solver (or a Hard Worker, or…), and I'm not assertive enough to be a Challenger."
There's good news.
Anyone can develop the skills that make Challengers so successful.
Take Phil Daily, for example.
He was a rep in a large service industry sales division, and considered himself a Relationship Builder.
If there was any tension in a sales conversation, he would back off and try to 'friend' his client into a sale. It was a barrier that led him and his solution to "blend in like white noise."
He talked to his supervisor (himself a Challenger) and decided to make a change.
He implement what he learned from about Challengers and focused on teaching his customers to view their industries from a different perspective.
His efforts paid off, and he ended up delivering the top sales performance of his division – in his first year.
A Sales Approach for a Changing World
In today's sales world, old approaches aren't cutting it any more.
And if you your goal is to reach your full potential as a sales rep, then developing Challenger skills is an important part of your process.
Building the confidence that it takes to offer provocative insights is the key to open up the right kind of conversations with your clients. Conversations that allow your clients to see you a trusted source of advice and set you apart from the competition.
And when you can bring that level of insight to your clients, they will look forward to your meetings, because they'll come out having learned a new way to adapt to a changing world.
0
0
Ernest Nah
/wp-content/uploads/2014/09/iSEEit-Logo-CORRECT.png
Ernest Nah
2014-05-02 10:01:26
2019-05-05 12:59:27
The Challenger Sale – A New Way to Drive Growth