MEDDIC training online – iSEEit partners with the MEDDIC Academy
While most of our clients for good reasons still prefer "the classroom training", the demand for online training grows rapidly and here's why…
There are many debates about pros and cons of how training can and should be delivered in the digital age. Most of our clients report that on-site training is primarily scheduled on the agenda of kick off and Quarterly Business Reviews, where sales-people are flown in from all over the world.
It is a very costly and time intensive way to train the sales teams, however, it is still very effective to have the face to face experience with the experts and trainers, plus the networking and exchange during and in between the classes has a huge benefit.
Nevertheless, some of the most successful and fast-growing companies work out alternatives or complimentary training schedules.
Why?
There are 3 major reasons.
The period in between kick-offs or New Hire Trainings is very long
This is affecting New Hires as well as promoted employees, that might lose as much as a quarter or more, before getting trained. This is especially critical for fast-growing companies as they need to accelerate the onboarding time and train new employees as fast as possible to ensure a quick ramp-up time. In addition to that, any updates or changes need to be quickly distributed to the field to have an immediate impact.
Commute to the training is awfully time intensive and competes with customer facing time.
Especially sales teams lack customer facing time so every day counts. A flexible, remote learning experience is highly appreciated and demanded especially by younger sales.
Also, teams from remote destination have long commute times, so online training is a real alternative. The online content can be digested in smaller chunks whenever sales got a couple of minutes in between customer meetings, on the train or on weekends.
Cost for onsite training is high
Therefore customers look into leveraging the precious on-site time as efficiently as possible by establishing pre-course enablement or on-boarding curriculums to elevate all participants beyond the basics of the content to go deeper on the onsite training.
After the in person training the sales reps can refresh their knowledge with videos on the newly learned material helping them to better incorporate the content when they are back in the field.
So given the trend and increasing demand we are happy to announce the
Partnership with MEDDIC Academy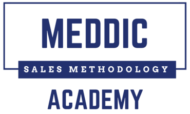 It was initiated by Darius Lahoutifard a former PTC veteran and MEDDIC entrepreneur of the early years.
They have built a fully online MEDDIC training for Enterprise Sales, which allow you to learn MEDDIC from the comfort of your office or home. No need to wait for the next kick off or training sessions. Additionally there are courses expanding best practices beyond MEDDIC in English, French and more to come.