In this episode of our Virtual Sales Talks, we sit down with Brendan Walsh, Executive Vice President of Sales at Mirakl, to talk about the importance of establishing a standardized terminology and sales process across the organization in a hyper growth market. Watch the video below and find out how the iSEEit Opportunity Management Tool has aided him and his team in increasing predictability and in scaling his teams.  A full transcript of this interview is also available.
In today's episode, we cover:
Introduction
Brendan Walsh: I am Brendan Walsh, Executive Vice President for Sales for a hyper growth SaaS (Software as a Service) company based in Paris, France called Mirakl. At Mirakl, we essentially provide marketplace technology for our prospects to thrive in what we call the "platform economy". Mirakl is essentially a triple play.  We provide technology. We provide the expertise. We also provide the ecosystem for our clients to be successful with marketplace initiatives.
What are the challenges in such a hyper growth market?
Brendan Walsh: Where it puts the company under a lot of pressure is in the talent acquisition space. How we hire the right people with the right level of experience. If you think about our engagement model, it's not just account executives. We also have to hire field marketing people. We have to hire alliances. We have to hire sales engineers. We have to hire customer success people and also platform advisory people who will ensure that we're staffing the right conversations with our prospects no matter where they are in the world. 
Once you move on from the hiring process, you then realize very quickly that you've got a very significant and an even greater challenge in terms of onboarding all of those various departments within the field sales organization, to ensure that we can ramp them up very quickly, and also give them a guideline to be successful in their respective regions. It's this kind of never ending cycle of learning from the field and redeploying those best practices across a wider geography, particularly as we continue to grow internationally. 
You also have the additional challenge of aligning the teams on terminology and giving them a map to be successful within the organization, and within that prospect-to-customer journey.
What does this map look like?
Brendan Walsh: We've built a very comprehensive sales engagement model and within that sales engagement model, I'm personally a huge fan of MEDDIC. Particularly within an enterprise software sales environment, MEDDIC is my personal favorite in terms of the sales methodologies because it's one that you can apply to not just new business sales, but also to upsells or cross sells where you're engaging with new prospects and existing customers. 
For us, that's a really important part of our DNA because we want to give our teams commonality regardless of what region they're selling in. Of course there are slight cultural differences. But I think what you'll see in enterprise software sales is a common approach whereby when you establish value, and your customers can determine and agree on that value, then you both very quickly have a common goal which will allow you the predictability you need in order to create the sale.
How do you ensure sales quality and consistent forecasting in such a fast-growing environment?
Brendan Walsh: I don't believe a manager can manage more than 6 account executives before they start to lose that element of control, predictability and their ability to successfully manage and grow a team. Once you break that rule of 6, you then think about creating new management structures and new pods. You then potentially create managers of managers and within that hyper growth arena, things start to get out of control very quickly. 
So having a very standardized approach to our sales methodology and creating a singular terminology within the organization really helps us map out how we continue to grow and where we potentially hire. Maybe also where we pull back a little bit based on previous projections etc. 
Once we come up with the terminology and the methodology, we then want to operationalize that within the company. Within Mirakl, we've done that using technology and of course, with the assistance of you and your team Rizan at iSEEit. It's been a fantastic tool for us to create that standardized terminology and also gives the entire team, not just the sales team but also how the sales engineers interact with the AEs, how the BDR teams interact with the sales and marketing teams, create champions and get access to economic buyers. Using that MEDDIC sales methodology within iSEEit which is integrated into our Salesforce platform really gives the entire organization no matter where they're sat geographically, a standardized approach to how we think about our business today,
How has the iSEEit Opportunity Management Tool helped your team so far?
Brendan Walsh: We open up the dashboard in iSEEit. It's a fantastic dashboard that allows us to really decide as a team, whether we invest or hold back. 


We very rarely get pushback on it because a lot of the time, there may ultimately be additional responsibilities on the manager to get back to engaging with the economic buyer for example, to create that standardized engagement process where we can then both agree to allocate resources not just on our side, but also on the prospect's side.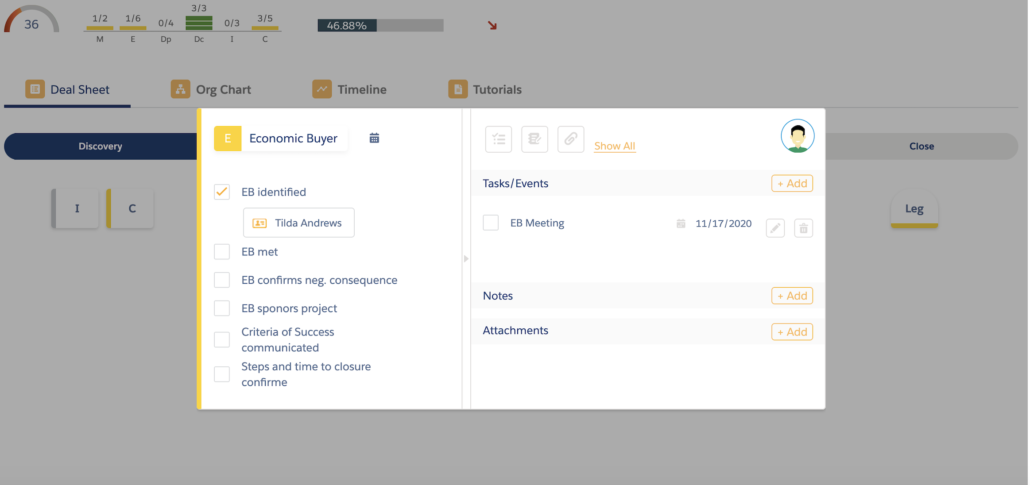 So I think the predictability provided by the dashboard gives the AEs an opportunity within what we call our "Deal Clinics" to ask for that resource. But don't show up to a Deal Clinic if your MEDDIC and your iSEEit are not up to date.
How do you overcome the resistance to implementing MEDDIC?
Brendan Walsh: What's really important is getting buy-in, not just from managers, but also from the individual contributors. I think it's really important to demonstrate to the account executives, the BDRs and the sales engineers, why this is a fundamentally successful program for any organization to embark on.
We all have the same objectives. We all want to grow and when you think about how we grow, we need to think about how we work cross-functionally. And I think creating a standardized methodology and process ultimately drives success, by ensuring that people learn new things, and prevent people from going off piece. It just creates an environment whereby you're not just allowing for growth, but also for predictability and a common language within the organization.
Resources are scarce. Companies don't often get to hire people as quickly as they'd like to and in that battle for resources, it's really important that the entire organization has a standardized methodology to create an environment whereby you can either allocate or hold back on any particular resource for a very good reason.
Ready to start implementing MEDDIC on salesforce?
Click the link below and schedule a FREE DEMO today!
https://now.iseeit.com/wp-content/uploads/2020/12/Mirakl-Thumbnail.png
752
937
Rizan Flenner
/wp-content/uploads/2014/09/iSEEit-Logo-CORRECT.png
Rizan Flenner
2020-12-08 13:00:14
2021-09-06 12:15:17
Virtual Sales Talks: How Mirakl runs MEDDIC on Salesforce to establish a standardized sales process and scale