Salespeople like you and I probably have hectic schedules and endless to-do lists. For sales reps, it can be challenging to allocate quality time to properly qualify your deals to drive them to closure. For sales managers, the countless fields in Salesforce could get overwhelming, preventing you from getting any meaningful insight into your sales team's performance and the next steps to take. As a result, executive management ends up with an unpredictable forecast due to countless slipped deals and the lack of a common language to qualify deals. It really is a vicious cycle.
Top problems faced by salespeople
Based on our interactions with sales leaders at leading organizations worldwide, some top problems that sales professionals face have been identified:
No common structured approach to qualify deals, pipelines and forecasts

Low sales process adoption due to churn and the onboarding of new reps in scaling companies

SFDC seen as tedious admin work without benefits for sales

No visibility for sales and sales management to identify gaps to plan the appropriate next steps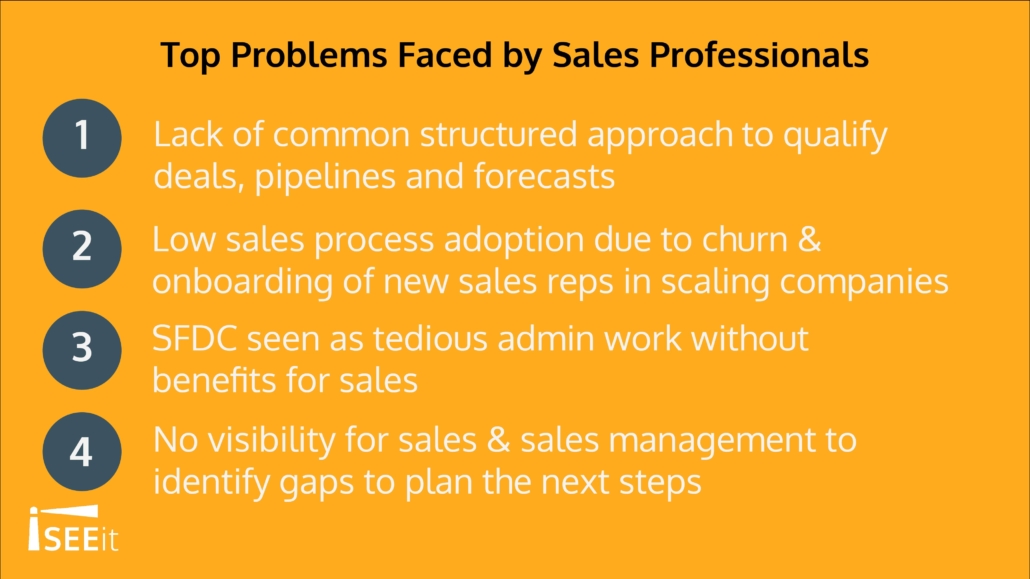 The iSEEit Opportunity Management Tool was built with today's sales professionals in mind to solve these problems. The native Salesforce app allows you to visualize your sales process and manage your opportunities all directly within Salesforce. The app is also completely configurable to your respective sales methodology (MEDDIC, MEDDPICC, BANT etc.), helping you and your team establish a common language. As the tool comes out-of-the-box, no additional development is necessary, allowing you to start managing your opportunities within an hour.

Sales Process Visualized
Let's take a closer look at how the iSEEit Opportunity Management Tool is beneficial to 
Sales Reps
As the iSEEit Opportunity Management Tool was designed by salespeople, for salespeople, we've created a solution that's easy, intuitive and natural for you to use in every aspect of your daily workflow.
Gain instant visibility to successfully close deals with structured qualification criteria, gates and traffic color coding.

Save time and increase the accuracy of forecasting and reporting with a one-stop-shop for data entry, retrieval and reporting.

All entered information is accessible by managers, increasing shared visibility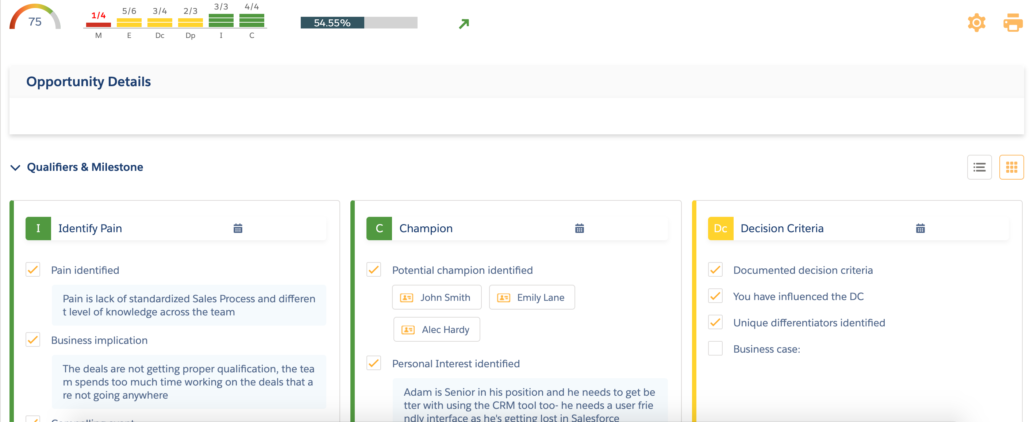 Qualification criteria, gates and traffic color coding.
Managers gain real-time access to all information
Sales Managers
As a sales manager, there are a variety of metrics you need to access concerning the performance of your sales team. The problem is how to get a hold of them. While your CRM may provide you with some answers, they do not give you the full picture. This creates concerns about the accuracy of your forecasts. Here's how the iSEEit Opportunity Management Tool can help overcome that:
The tool simplifies administration. Aggregate views and traffic color coding help immediately identify strong deals and problem areas to

​

plan next steps.


Gain an overview of the performance, tasks, qualifiers and milestones of your sales team and sales reps in a visual and transparent way.

Gives you more time to focus on coaching, mentoring, inspiring and enabling your team with a built-in sales playbook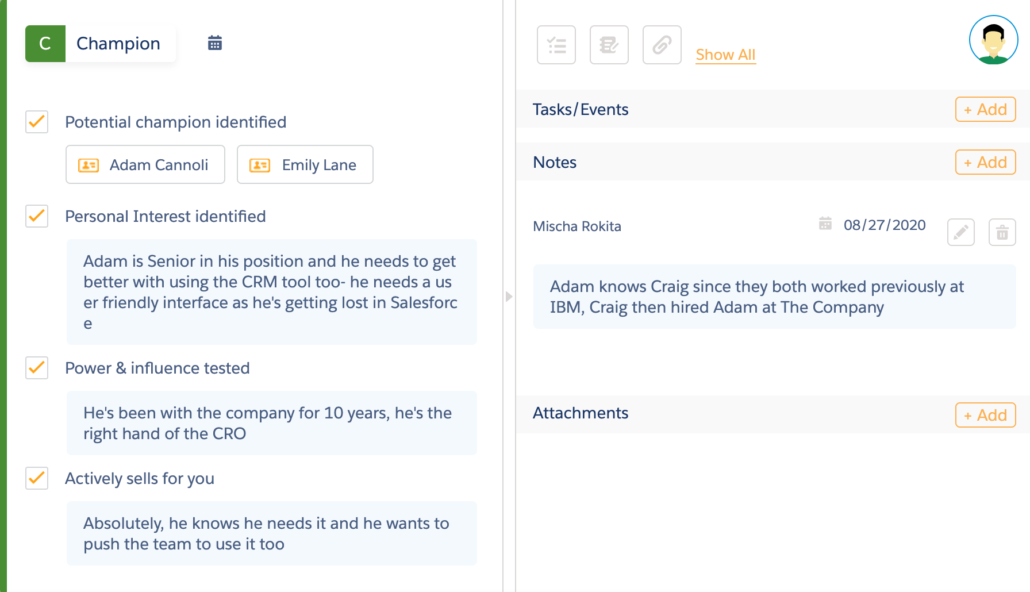 Overview of the performance, tasks, qualifiers and milestones of your sales team
and sales reps in a visual and transparent way
Executive Management
As an executive, you can benefit from the aggregate view that iSEEit offers, providing you with depth, accuracy and timeliness of data. This gives you the instant visibility you need to establish an accurate forecast and zoom in on opportunities that require your attention.
Gain an overall picture of what's happening in your sales organization

Only qualified deals are added to the forecast, helping you avoid slipped deals which affect your forecast's accuracy

Instantly drill down to the contribution of every sales rep and their deal progress

Set filters to automatically highlight areas where you feel you should be involved

Increased adoption rate of sales methodology and optimized qualification leading to healthier pipelines

Increased productivity of up to 20% per sales rep through qualifiers, milestones and gates
New members get onboarded quicker with a structured approach, allowing you to scale your team quickly.


Gain an instant overview of your sales organization
Overview of how iSEEit can benefit sales teams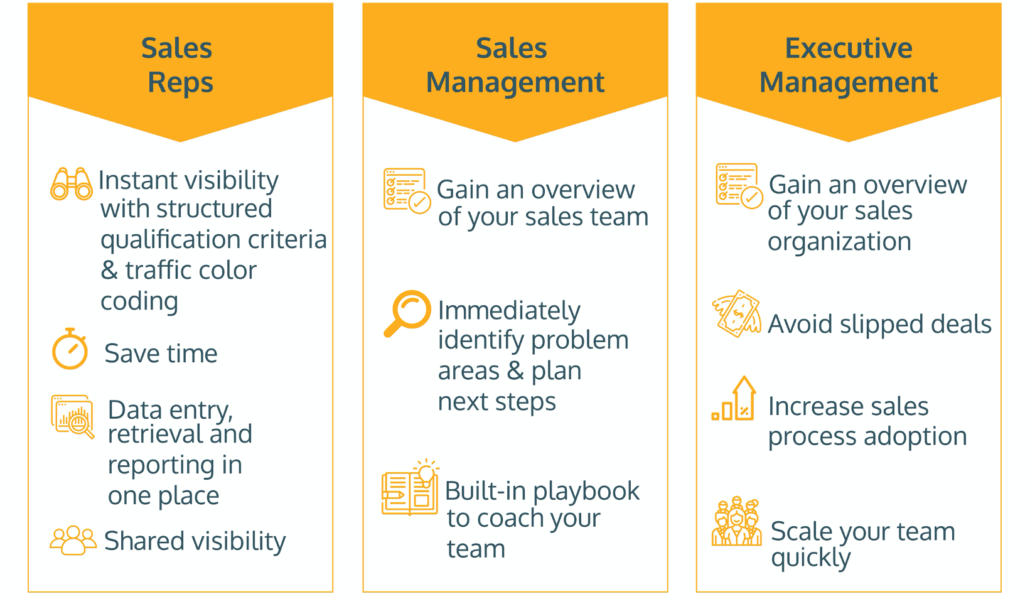 Conclusion
In conclusion, sales reps, managers and executives can all benefit from using the iSEEit Opportunity Management Tool. Here are some concrete results from clients who have worked with iSEEit.
Did we pique your interest? Start a conversation with us today and find out how iSEEit can support you in visualizing your sales process on Salesforce.
https://now.iseeit.com/wp-content/uploads/2020/11/how-iseeit-is-beneficial-thumbnail.png
939
1166
Rizan Flenner
/wp-content/uploads/2014/09/iSEEit-Logo-CORRECT.png
Rizan Flenner
2020-11-30 17:44:21
2021-09-06 11:50:03
How iSEEit Is Beneficial To Sales Reps, Sales Managers and Executive Management