Looking to scale your team and still retain a predictable, healthy forecast?
Do you collect plenty of sales data using different means, but still lack the insights to qualify your deals?
Meet iSEEit, a native Salesforce app which allows you to visualize your entire sales process stages in structured steps and follow any sales methodology like MEDDIC, Value Selling, Solution Selling and more, enabling you to identify gaps during deal qualification, take corrective next steps in time and close more deals.
iSEEit on Salesforce Features
Sales Process Visualized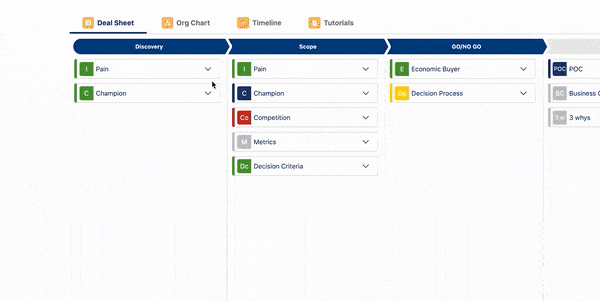 Fully Configurable Qualification Criteria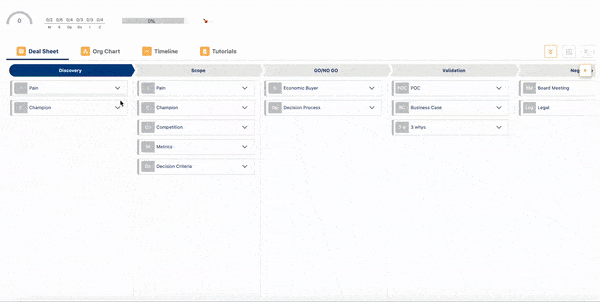 Fully configurable qualification criteria allows you to identify gaps early on and plan meaningful next steps.
Data Types
Select from a variety of data types such as text input, contact tagging, dates, and picklists.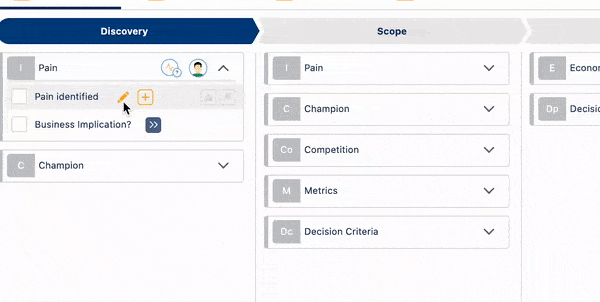 Text Input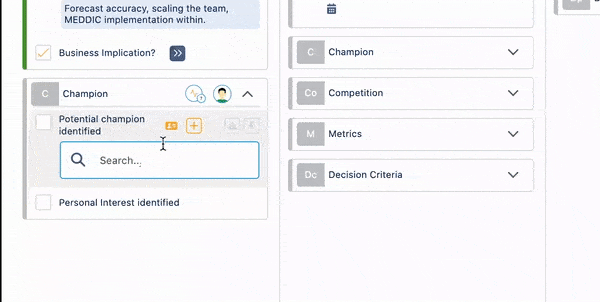 Contact Tagging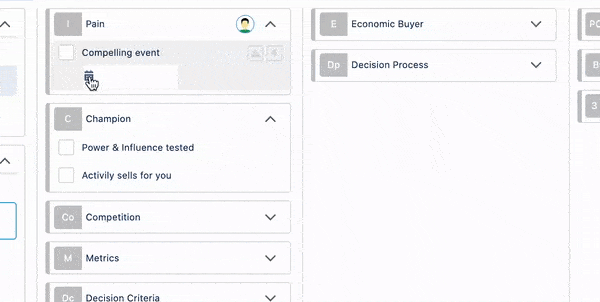 Dates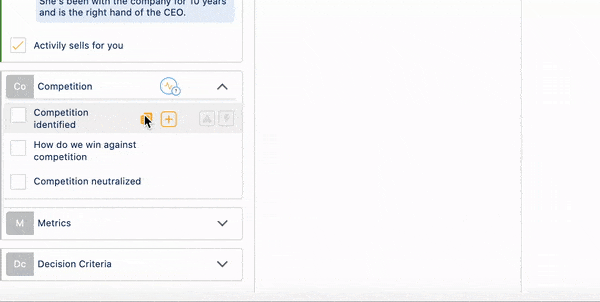 Picklists
All data types are fully configurable according to your specific criteria, bringing you more structured insights to manage your opportunities, collect competitive intelligence for marketing or to enable supporting teams to better understand the deal.
Gates
Introduce gates to ensure that important deal information is qualified before moving on to the next stage.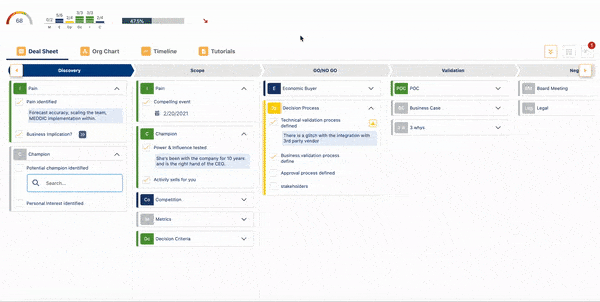 If you have stage viable outcomes or triggers that need to be accomplished, you can alert the sales rep that this needs to be completed first.
Risks & Warnings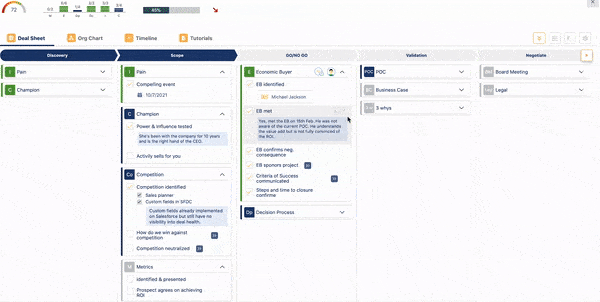 Flag deal information as a risk or warning, and instantly find out how this might impact closing your deal on time.
Org Chart
Visually map out your buying center and visualize the relationships between each profile in your account.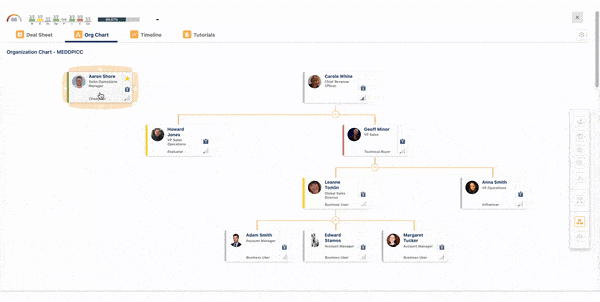 During your deal reviews, you can now go through the hierarchy in your account and who you should be having conversations with, painting a complete picture of how you should explore the organization to get deep and wide in the account.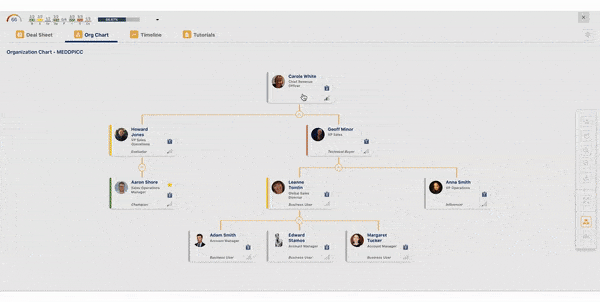 Identify contacts who influence close such as champions and economic buyers so you can tag the power base and understand who you should drive meaningful conversations with to navigate your deal towards closure.
Built-in Sales Playbook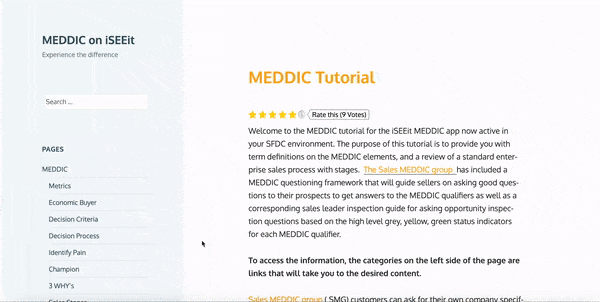 The built-in sales playbook is fully configurable to your organization's best practices, enabling sales teams to follow a common sales methodology and ensures that the team's progress is scalable, repeatable and successful
Aggregate View
With iSEEit on Salesforce, you can gain an instant overview of how every deal in your pipeline is doing and drill down on any opportunity when needed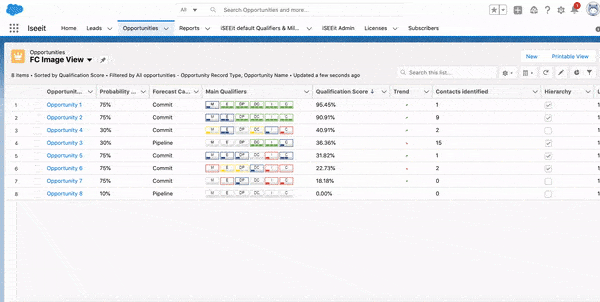 By using simple traffic colors and the qualification score, progress on every opportunity can be tracked, which facilitates identifying risky deals earlier in the sales cycle.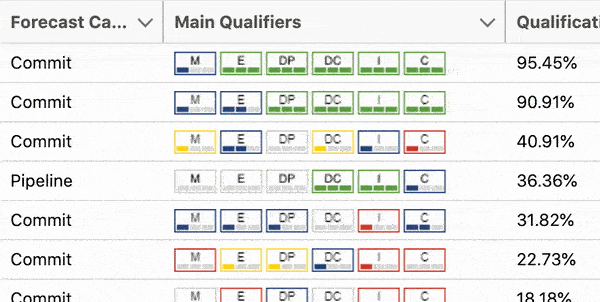 This speeds up your forecast calls and reduces slipped deals towards the end of the quarter, resulting in a more predictable forecast based on evidence.
Our global portfolio of clients say that using iSEEit has helped them establish a common language across their entire sales organization, get better at deal qualification, build a more predictable forecast and scale quickly.
Implement iSEEit on Salesforce
Get in touch with us today and start visualizing your sales process on Salesforce.
https://now.iseeit.com/wp-content/uploads/2021/11/iSEEit-on-SF.jpg
469
571
Rizan Flenner
/wp-content/uploads/2014/09/iSEEit-Logo-CORRECT.png
Rizan Flenner
2021-11-11 16:15:20
2021-11-11 16:15:33
iSEEit on Salesforce – NEW FEATURES