Building an Effective Operational Rhythm for Enterprise Sales
Enterprise sales is a challenging and multifaceted profession that requires salespeople to juggle a wide range of responsibilities and tasks. From pipeline generation and sales calls to campaign planning and customer visits, salespeople must stay on top of a complex and ever-changing landscape to be successful. However, the demands of the job can often lead to a sense of overwhelm, with salespeople struggling to maintain focus and getting sidetracked by urgent, but less important matters.
This can lead to a loss of sight about the important tasks that are critical to generating revenue and building long-term customer relationships.
In this article, we will explore how salespeople can create an effective operational rhythm that includes all important tasks, while also maintaining a healthy work-life balance. We will use Steven R. Covey's "7 Habits of Highly Effective People" as a reference to create a comprehensive weekly, monthly, and quarterly schedule that helps salespeople stay focused and achieve their goals.
Let's start with Habit 1 – Begin with the end in mind.
As an enterprise salesperson, your overarching goal is to close deals and generate revenue and of course overachieve on your commission plan.
To achieve this, it's important to plan the earnings you would like to accomplish and determine how much revenue you need to close. Translate your revenue goal into the number of deals you need to close based on your average selling price. Assess your existing pipeline, including potential upsells and expected contributions from partners, to identify any gaps that need filling.
So if your goal is to close 1 Mio in Annual Recurring Revenue (ARR) subscription licenses you could Create a revenue spider to visualize this and consider the ratios in your pipeline funnel to determine the number of leads you need to generate.
Break this down into quarterly, monthly, and weekly goals to slice into smaller goals to stay on track to success.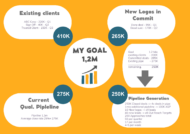 Let's move on to Habit 2 – Be proactive.
As an enterprise salesperson, being proactive means stepping out of your comfort zone and actively reaching out to potential clients. Clients are swamped with potential solutions to their problems and if you wait until they have started their evaluations you might be late in the game., so it's crucial to get in front of them as early as possible.
As discussed earlier, you have identified the target number of new leads you need to generate. The next step is to identify potential accounts that fit your target profile, research the company and potential buying personas, and create an outreach plan. If your company offers automation tools to plan your prospecting it will make things easier for you.
It's important to break this plan down into achievable targets on a weekly, monthly, and quarterly basis.
Put first things first
To avoid getting sidetracked by urgent, sometimes even important demands from clients, colleagues or management it is important to put a priority list in place.
It should contain your long-term goals and plan how to achieve them. Prioritize revenue-generating activities, such as pipeline generation, sales calls, and customer visits, and allocate enough time for them in your schedule. Additionally, make sure to schedule personal and family time, as well as important "big stones" like training and professional development. Utilize a planning tool, such as a calendar or task manager, to help you prioritize and allocate time for each task. Break down your schedule into weekly, monthly, and quarterly segments, and ensure a balance of tasks in each timeframe. By following these steps, you can effectively prioritize and allocate time for important tasks, achieve your long-term goals, and maintain a healthy work-life balance.
Think Win Win
In Enterprise sales it is all about creating mutually beneficial relationships with customers and focusing on deals where both parties can win.
To apply this habit, focus on deals where you can truly influence the outcome and provide value to the customer. In MEDDIC terms where there is a real pain and a potential champion you will be able to identify the customer's goals and priorities, and identify ways that you can help them achieve those goals while also meeting your own sales objectives. Avoid getting sidetracked by deals where you have little control or where the customer may not see the value in what you offer.
Keep yourself honest by inviting your colleagues and/or management to sanity check your deal health, identify blind spots and get your campaign back on track if needed.
Link: How to setup deal review sessions
Sharpen the saw
Sharpening the saw in enterprise sales involves taking the time to continually improve and develop new skills and knowledge that can help you succeed in your role. Here are some ways salespeople can sharpen the saw:
Learn about the customer's business C-Level executives #1 complaint about sales people is: "They don't understand our business" -: Take the time to learn about your customer's business and their specific goals and challenges. This will help you understand how your solution can best help them achieve their objectives.
Stay up-to-date on your solution: Customers obtain a lot of information prior to talking to salespeople, Make sure you are audible-ready by regularly updating your knowledge on your solution's capabilities, value, and proof points from references. This will help you be prepared to discuss the solution's value and capabilities with customers..
Seek feedback and coaching from managers, colleagues, and mentors to identify areas for improvement and develop a plan for growth. Invite them to do deal reviews and brainstorming on your sales campaigns. Include role plays to train asking the tough questions!
Maintain a healthy work-life balance: Take time to stay healthy and balanced by spending time with family and friends, engaging in physical exercise, and pursuing hobbies or other interests outside of work.
By taking the time to sharpen the saw in these ways, salespeople can continually improve their skills and knowledge, build strong customer relationships, and achieve greater success in their roles.
Stay honest to yourself
When it comes to forecasting, it's important to focus on the opportunities that have a high likelihood of closing. To do this, it's important to be honest with yourself and focus on the facts you have gathered during the qualification process, rather than relying solely on gut feelings.
We recommend using sales methodologies such as MEDDPICC to qualify, and define next steps. This will help you stay focused and prioritize your time and resources effectively.
https://now.iseeit.com/wp-content/uploads/2023/06/2.png
1080
1080
Rizan Flenner
/wp-content/uploads/2014/09/iSEEit-Logo-CORRECT.png
Rizan Flenner
2023-06-06 16:43:43
2023-06-06 16:52:42
Operational Rhythm