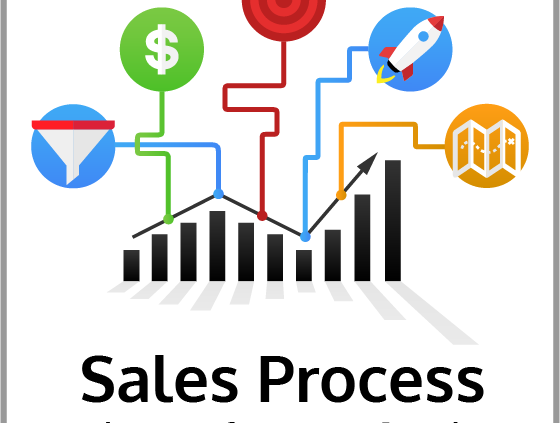 Sales Process: The Definitive Guide
There's no question:
Having an effective sales process is the most important (and challenging) piece of the revenue-generating puzzle.
It's the key to outperforming your competitors and significantly increasing your win rate. And yet a whopping 60% of B2B companies lack a well-defined sales process. That's because creating an effective, profit-building sales process is a serious investment of time and resources.
That's why we combed the internet for the absolute best resources on how to build the most effective, revenue-generating sales process possible and put them all together for you in one convenient guide.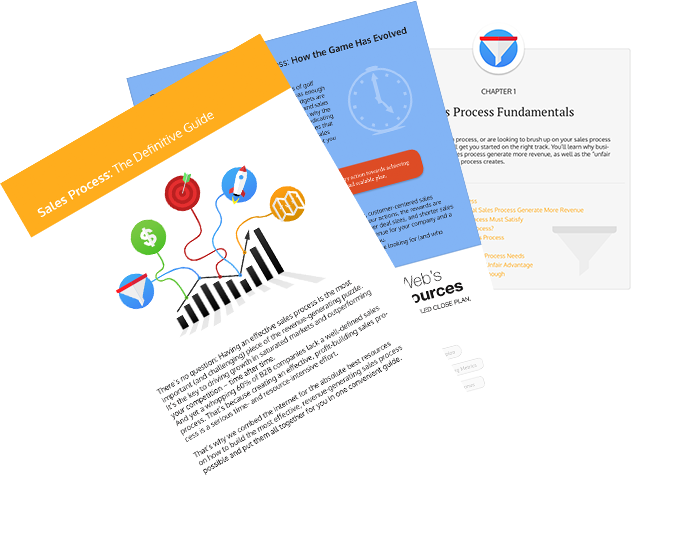 The Ultimate List of the Web's
Best Sales Process Resources
FROM UNDERSTANDING YOUR CLIENTS' PAIN TO CREATING A DETAILED CLOSE PLAN,
THIS GUIDE HAS YOU COVERED
CHAPTER 1
Sales Process Fundamentals
If you're currently without a process, or are looking to brush up on your sales process basics – these resources will get you started on the right track. You'll learn why businesses who implement a sales process generate more revenue, as well as the "unfair advantage" that a great sales process creates.
---
CHAPTER 2
How to Secure More Opportunities by Discovering Your Clients' Pain
Understanding your client's pain points is the crucial first step in any deal. And if you can solve your client's pain in a way that has a clear, measurable impact on their business, then your deal is off to a solid start. Here are some great resources on how to discover the real pain and use it to grow your sales.
---
CHAPTER 3
Build Influence and Gain Access With a Champion In Your Account
A champion could very well be the most important person in your entire sales campaign. These are the guys (and gals) within your account with a personal interest in the success of your deal. They're the ones selling on your behalf when you're not around. If you want to predictably close more deals, developing and nurturing a champion should be on the top of your priority list. Here are some fantastic resources to help you do exactly that.
---
CHAPTER 4
How to Avoid Slipped Deals By Reaching the Economic Buyer(s)
If you want to be dead certain that your deal is going to close, you absolutely, positively MUST hear from the Economic Buyer's (AKA the Ultimate Decision Maker's) own lips what HIS criteria for a successful implementation looks like. By making making a plan to reach the EB, find out their criteria and confirm that your solution is a fit, your deal's chances of closing take a quantum leap forward. Here you'll learn how to take your sales process to the next level by making sure you're in touch with these key decision makers:
---
CHAPTER 5
How a Compelling Event Can
Shorten Your Sales Cycle
Your biggest enemy isn't one of your competitors. It's the status quo. Why should the customer buy NOW? What would happen if he postpones his decision? Find out if there is a serious, quantifiable reason why your project should not be delayed another moment. If there isn't, can you create one? Here are some great ways discover (or create) a valid, compelling event to help you build an solid case for change.
---
CHAPTER 6
How Mapping Your Sales Process to Your Customer's Buying Process
Can Double Your Win Rate
Making sure you align your sales process steps to your customer's buying process is essential to ensure a successful deal. Confirming your client's decision making process allows you to develop the tactics and objectives you need to consistently outperform your competitors. Here are the best resources available to help you create a customer-centric sales process.
---
CHAPTER 7
How to Reach Triple-Digit Growth
by Tracking the Right Metrics
If there's one thing that separates a stellar sales team from a standard one, it's this: Stellar sales teams always keep tight track of the right Key Performance Indicators and use them to hit and exceed their revenue goals – quarter after quarter. Here you'll learn what the most important metrics to track are, and which ones to avoid like the plague.
---
CHAPTER 8
How a Detailed Close Plan Can
Make or Break Your Deal
According to sales process expert, Dave Stein, the value is in the planning, not the plan. Just by setting a target and coming up with a step-by-step plan to get there puts you miles ahead of your competition. Here you'll learn the importance of starting with the end in mind and how to create a milestone-based timeline that lets you map the quickest route to closure.
---
CHAPTER 9
The Best Step-by-Step Resources For Building a Profit-Generating Sales Process
So now that you know everything there is to know about what makes a great sales process 😉 , here are some amazing resources that will help you build your own profit-driving sales process from the ground up, including a detailed sales process template and they key steps every sales process should have.
---
CHAPTER 10
More Proven Sales Process Management Resources
You could easily write an entire book about any one of the chapters so far. With so much amazing content out there, here are a few more incredible resources on how to execute your sales process like a pro.
---